19.12.2022
Inauguration of the brand-new Multimodal Interchange Hub in Brax
On Tuesday 6 December 2022, Toulouse Métropole inaugurated the new Multimodal Interchange Hub in the commune of Brax, in the presence of the Mayor, Thierry Zanatta, and Jean-Michel Lattes, President of Tisséo.
For this new development, the elected representatives have chosen to focus on energy efficiency around the railway station.
An area for sharing between the different modes of transport houses three illuminated pedestrian crossings that improve pedestrian safety. Wattway Pack makes these lighting systems energy self-sufficient.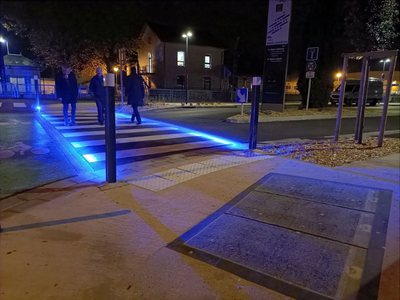 Wattway Pack is a solution that makes roadside equipment energy self-sufficient. Its advantages: resistant, visually discreet, modular and autonomous thanks to its independence from the grid.
Pedestrian safety is improved thanks to the Abel bollards installed at the four corners of the pedestrian crossing, which are illuminated at night. The Wattway system is charged with solar energy during the day and lights up the pedestrian crossing at night.
A solution that increases the vigilance of motorists and the safety of pedestrians.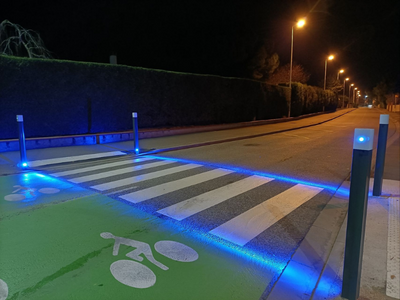 Find all our other autonomous sites thanks to Wattway Pack here
Inauguration of the Multimodal Interchange Hub in Brax - Twitter
14 AUTONOMOUS AND INNOVATIVE BIKE COUNTERS ON THE DEPARTMENT'S CYCLING TRACKS 34 IN FRANCE
Inauguration of the brand-new Multimodal Interchange Hub in Brax
Wattway evolves: Lower costs
Self-consumption, THE CHALLENGE
Citti Award: Wattway winner in the Smart Parking category!
Self-consumption: a sustainable alternative for energy production? Some countries are very interested!
Hauber & Graf, Wattway's new partner!
Colas Japan at a PVTEC webinar
Exhibition "1,000 solutions for the city"
Relive the highlights of Pollutec
Vélotour Orléans: we were there!
A friendly moment in Geneva
Rethinking the road of tomorrow
Spotlight on the energy potential of roads
Wattway at the Ile-de-France Mayors' Show
New project with The Ray in Georgia
Wattway Pack is moving to La Défense!
New step for the Wattway pilot site in Tourouvre-au-Perche (Normandy, France)
Our partner Nielsen Concept wins an award for urban innovation from "Le Monde Cities"
Wattway wins the Infratech 2020 Innovation Award
Drim'in Saclay 2021 : Wattway launches a challenge !
E5T Winter University - Ports and Sea transport: new routes, new energies
Wattway Pack comes to Rezé, France
Etienne Gaudin is speaker at Move 2020, London
COLAS LAUNCHES THE MARKETING OF WATTWAY PACK, THE FIRST APPLICATION OF PHOTOVOLTAIC ROAD SURFACING.
WATTWAY PACK CERTIFIED BY THE SOLAR IMPULSE FOUNDATION
EGYPT-FRANCE DELEGATION
KILOMETER-LONG STREET ART FRESCO ON THE SOLAR ROAD IN TOUROUVRE
VIVA TECHNOLOGY, INNOVATION