WATTWAY PACK
PANELS, A STORAGE CABINET, A USE





Wattway Pack is a turnkey solution designed to provide energy autonomy for roadside electrical equipment.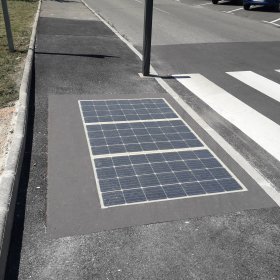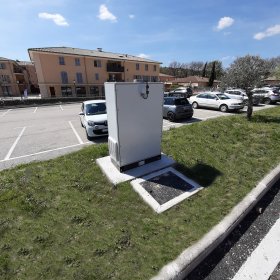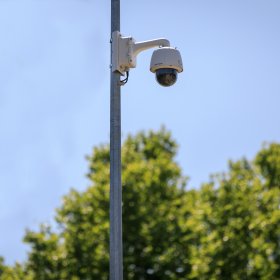 AUTONOMOUS
An off-grid solution thanks to solar energy and a storage system.

RESISTANT
Robust and secure, the solution is glued directly to the road and can withstand harsh weather conditions.

DISCREET
Installed on the ground, Wattway Pack can blend in to architectural sites and landscapes.

MODULAR
With scalable packs of 3, 6, 9 or 12 panels, the solution adapts to meet the energy needs of the equipment

PACKAGED OFFER
A turnkey solution including panels, electrical cabinet, storage and connection to equipment.
SOFT MOBILITY
Wattway Pack provides power for charging stations for bikes and electric scooter

SECURITY
A few panels are enough to power an access barrier to a site or a CCTV traffic monitoring camera

CONNECTED LUGGAGE STORAGE
Wattway pack makes it possible to make autonomous connected luggage storage for travellers in the broad sense: bikers, hikers, cyclotourists etc.

LIGHTING
In remote or peri-urban areas, Wattway panels provide autonomous lighting for pedestrians, cyclists and vehicles.

SIGNALS
Wattway Pack can be used to power variable message signs at the entrance to towns and cities, road signs, etc.
Our solution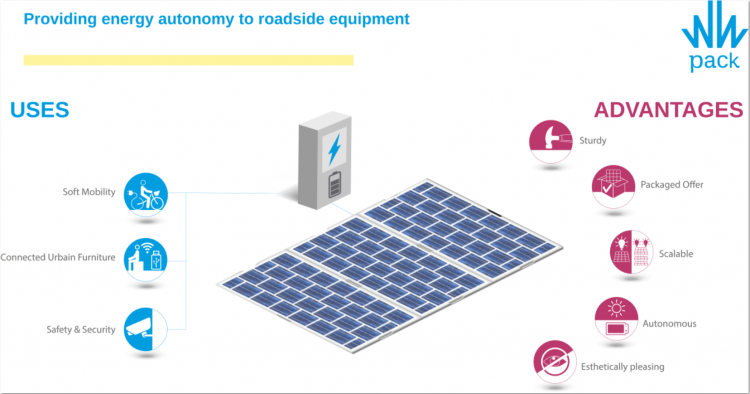 Wattway Pack is a turnkey, autonomous solution, compatible with all types of electrical equipment on the roadside. Quick to install and scalable, robust, secure and visually discreet, the solution consists of a photovoltaic surfacing using 3, 6, 9 or 12 Wattway panels (375 to 1,500 watt-peak) and an electric cabinet connected to the panels, with a storage system. The entire solution is connected to electrical equipment to provide autonomous power.